EclecticIQ Platform 2.8.0 is a minor release. It contains new features, improvements to existing functionality, as well as bug fixes. It marks another milestone on our path to building a truly analyst-centric cyber threat intelligence platform.
After kicking-off a long-term development effort to upgrade the ingestion engine of the platform with release 2.7.0, we are happy to share with you that this release brings major improvements to the platform's ingestion capability.
After upgrading your environment to EclecticIQ Platform 2.8.0, you can start reaping the fruits of our work: now ingestion processes incoming data at entity-level to let you experience significantly faster ingestion speeds.
Besides faster ingestion, this redesigned approach also enables you to scale up your system effectively to cope with heavier workloads: to ingest more data and to speed up the process, start more worker processes and let them take care of it.
We could not pack a release with only under-the-hood improvements. Analysts are always a core target audience for us, so we made sure we would include also new features to enhance their daily experience.
After introducing search history in release 2.6.0 and search autocomplete in release 2.7.0, we kept expanding on it to give analysts a powerful tool that is easy to use.
EclecticIQ Platform 2.8.0 extends search functionality with the new multiline editor, where analysts can design complex search queries, while following the entire story their query tells.
Before running a search query in the platform, syntax validation and error highlighting save time, frustration, and a headache or two.
Finally, a word about standards. The number of intelligence providers and security controls that support STIX 2.1 and TAXII 2.1 is growing. EclecticIQ is a contributor to the development of the Oasis STIX and TAXII standards.
Therefore, EclecticIQ Platform 2.8.0 marks the beginning of a new product development track toward full interoperability with the latest Oasis STIX and TAXII standards.
In this release you can ingest IOCs in STIX 2.1 format through manual upload or incoming feeds. Of course, release 2.8.0 supports TAXII 2.1 as the complementary transport type that carries STIX 2.1 data.
In the future, the platform will enable sharing STIX 2.1 indicators, as well as offer support for the other STIX 2.1 objects.
We hope you enjoy reading these release notes – now accompanied by short feature videos for your convenience – and watching the quick tour video from the team.
Download
Follow the links below to download installable packages for EclecticIQ Platform 2.8.0 and its dependencies.
For more information about setting up repositories, refer to the installation documentation for your target operating system.
Upgrade
Upgrade paths from release 2.0.x(.x) to 2.8.0: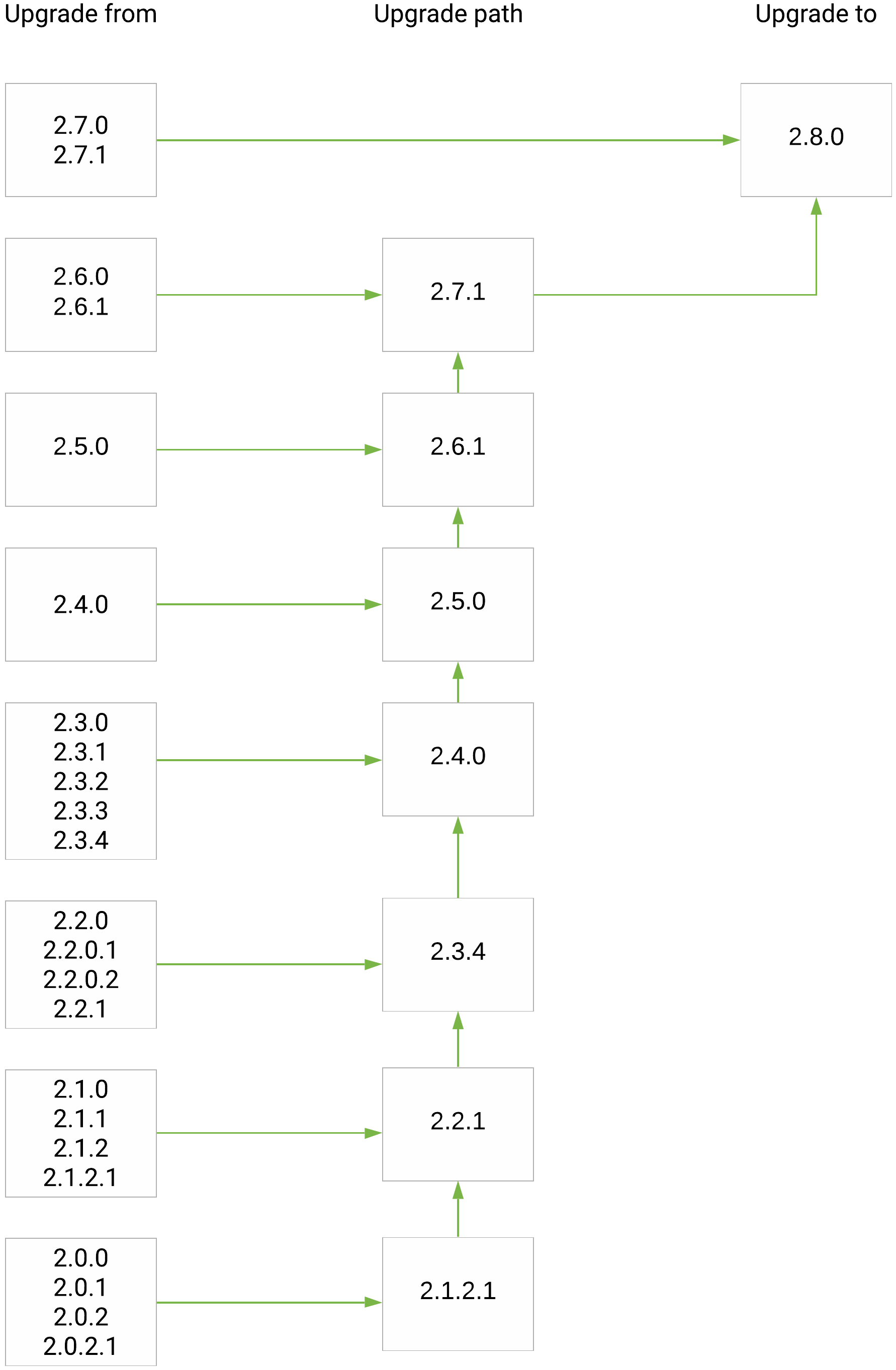 EclecticIQ Platform upgrade paths to release 2.8.0
What's new
What's changed
Improvements
Important bug fixes
This section is not an exhaustive list of all the important bug fixes we shipped with this release.
Known issues
Security issues and mitigation actions
The following table lists known security issues, their severity, and the corresponding mitigation actions.
The state of an issue indicates whether a bug is still open, or if it was fixed in this release.
For more information, see All security issues and mitigation actions for a complete and up-to-date overview of open and fixed security issues.
Contact
For any questions, and to share your feedback about the documentation, contact us at [email protected] .