Share your ideas on the Ideas Portal
At EclecticIQ we are always happy to hear ideas and suggestions you may have to expand and to improve our products. It's important to us that our product roadmap takes into account your needs as well as the needs of our wider customer base and the market.
In addition to monitoring market developments, our Product Team reviews all customer ideas which have been submitted to our ideas portal and evaluates each one to make sure it matches our strategy. And just like sharing CTI, we love to share good ideas. So besides submitting and viewing your own ideas, you get to view other ideas and show your support to them by giving them your vote!
This quick start guide walks you through accessing EclecticIQ Ideas Portal and using it to submit product ideas.
You can reach EclecticIQ Ideas Portal at https://ideas.eclecticiq.com.
Access EclecticIQ Ideas Portal
Upon receiving the activation email, create a personal password to access Ideas Portal.
After confirming your newly created password, you are redirected to the Ideas Portal where you can sign in to access your profile, or to submit new ideas.
Modify your profile
By going to the top right user menu, you can directly access your profile, where it is possible to change the details of your account.
All the details of your profile are not visible to other users of the Ideas portal, but they are visible to Product Team members.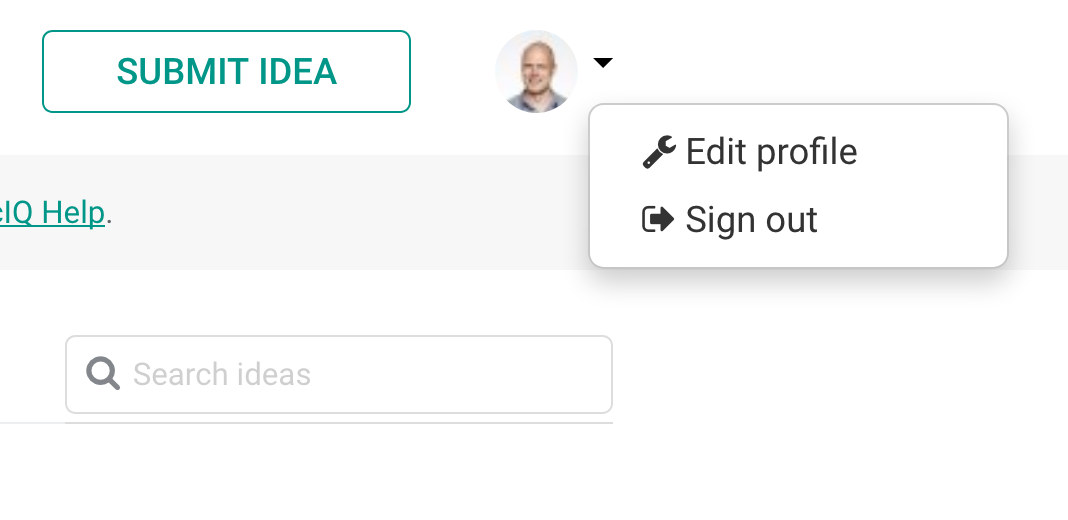 Explore ideas
When logged into the portal, you are able to browse all existing ideas in the portal. In the body of the Ideas Portal you will see a list of ideas, which you can refine by selecting one or more options from the following sections:
Filters

Status

Categories
You can select only one option in each section, but can combine selection from across sections.
You can then sort results by clicking one of the following tabs:
Recent

Trending

Popularity
Alternatively, type a free text query in the search box to search for matches in all available ideas in the portal.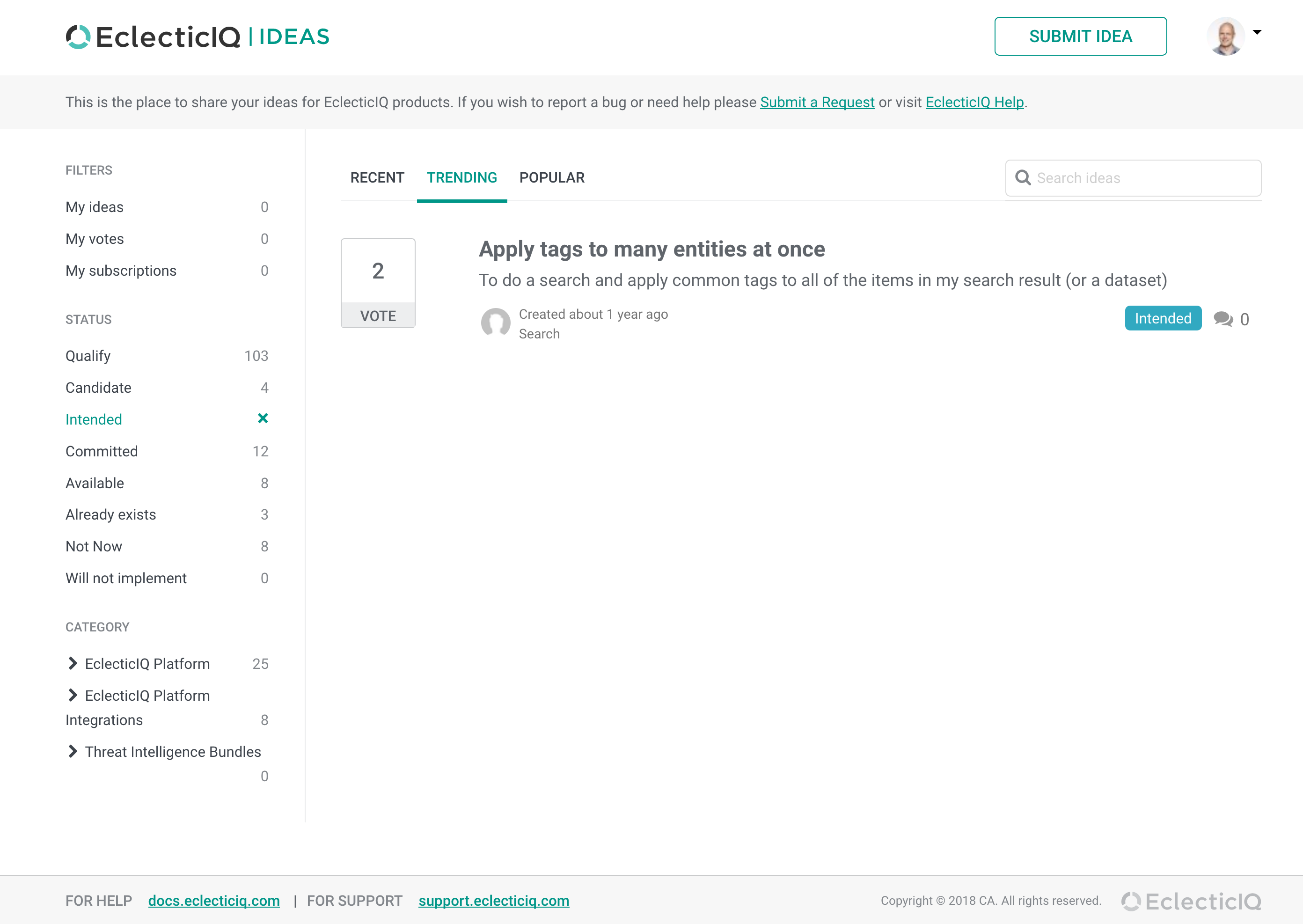 Refine results with Filters, Status, and Categories
On the left side, there are tools which you can use to narrow down the ideas you see, either by:
Filters: your ideas, ideas you voted for, or ideas you are watching.

Status: in which state of the development process the ideas are in.

Category: which product category the ideas belong to.
Filters will narrow down the available ideas you see per category.
View ideas
Now what does an idea look like, you either see an idea in the listing, or in full view, by clicking on the title.
List View

Full View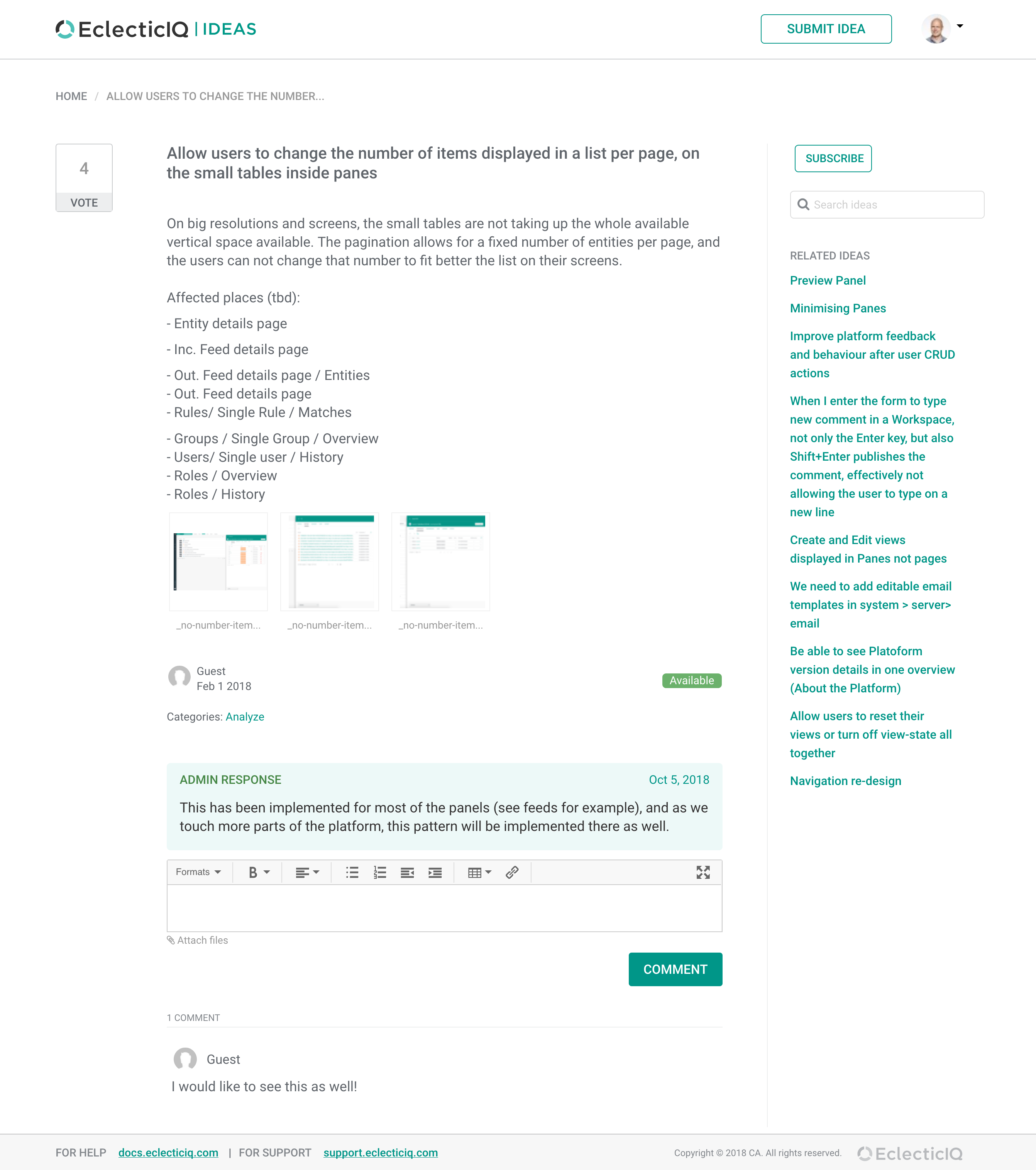 Understand idea submissions
The anatomy of an idea, and what each part means are listed in the table below.
Title

A one-liner that sums up the gist of the proposed idea.

Body

Elaboration of the idea with possible pictures or other files to clarify.

Status of the Idea

Once an idea has been committed, you are of course curious if it will be chosen for implementation.
To know in which stage the idea currently is, you can look are the following list statuses we use with a brief explanation of what they mean to help you understand the different stages.

| | |
| --- | --- |
| Qualify | The idea has passed initial triage, and is awaiting further qualification. |
| Candidate | The Product Team believes the idea is valuable and it will be considered for the roadmap, which is reviewed quarterly. |
| Intended | The Product Team has included the idea in the roadmap and it is intended to be delivered in a specific release or the near future. |
| Comm itted | The Product Team has included the idea in the roadmap and it has been committed to a specific release. |
| Available | The idea is either fully or partially available. |
| Already exists | The idea is already available in the product. |
| Not Now | The idea does not align with our current thinking, or priorities but it was assessed to be valuable to retain for future consideration. |
| Will not implement | The idea does not align with our strategy or the goals of the product, and will not be taken into consideration. |

Admin response

Whenever a Product Team member officially responds to an idea, their message is flagged as Admin response.
This response is shown in a highlighted box to the user, and a notification is sent out to notify people.
These responses are used when specific choices are made for an idea, such as promoting it to a feature for an upcoming release, releasing it, and so on.

Comments

Any user can post comments.

Votes

You are invited to express your support for any of the ideas posted inside the portal.
Each user of the portal can add a single vote to an idea.
The tally of the votes helps us decide which ideas are in large demand.
Currently everyone has unlimited votes, so vote as many times as you want!

Related ideas

Any idea that might be related to the current Idea will be shown here for easy pivoting.

Subscribe

Subscribing to an idea allows you to be notified on any change to ideas

Submitter

See who submitted the idea and when it was submitted

Categories

All assigned categories will be shown here.
Share your ideas
We know you have good ideas, and we are eager to hear them. This section guides you on how to submit new ideas and track them through the process.
Submit an idea
By clicking the Submit idea button, you will be presented with the form for expressing your idea. With three simple fields you can express your thoughts to us. Describe your thoughts/problems as complete as possible, and don't hesitate to accompany them with pictures and other supporting material.
Be aware that by submitting your idea to the ideas portal, you are sharing it with all our customers and partners. Do not add any sensitive or information you don't want to share with others.
To help ensure you don't add anything on accident, we will not show your idea in the portal to others until it has been triaged by a Product Team member.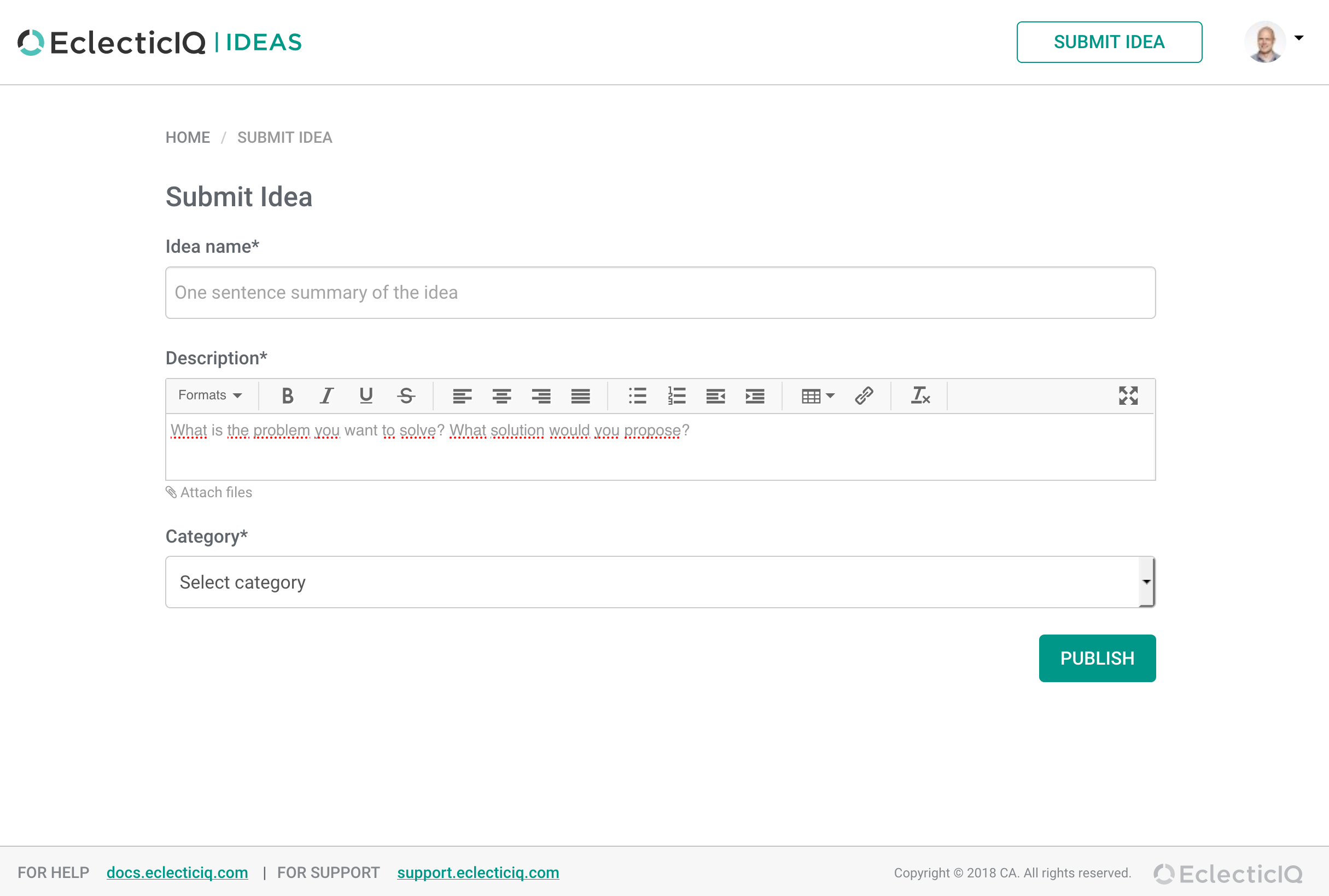 Update an idea
Once created, you can always update it by going to the full view, and then by clicking Edit: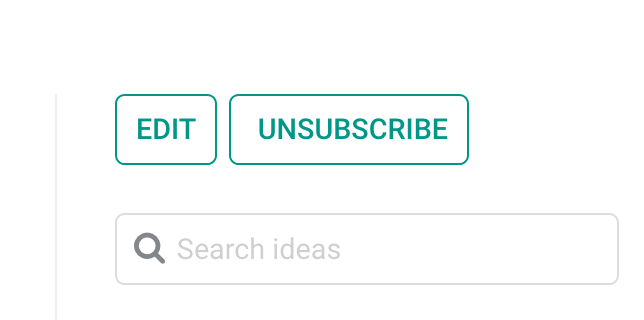 What happens to my ideas?
To give you some insights as to what happens behind the scenes, we wanted to share with you the high level process that we follow.
On a daily basis, the Product Team triages the ideas to ensure they make sense and are valid.

Weekly, the Product Team evaluates the ideas to decide if they match our product vision and strategy.

Each month, the Product Team analyzes all submissions to assess the top ideas that bring the most value to our customer base.

Each quarter, the roadmap is reviewed and Product Management defines what will be delivered in the upcoming releases.
By looking at the status for each idea, you can see the state in which it is in.
About notifications
You will be notified via email when you submit an idea, or when changes happen to an idea you are following, or voted on. These notifications keep you posted on how the ideas are being processed by the Product Team, and when the idea will make it in the platform.