Beta features allow you to try out features that are still in-development.
Enable beta features
Sign in to the Intelligence Center.

In the side navigation bar, go to Settings ( ) > System settings,

Click General.

Click Edit settings.

Scroll down to Beta features.

Select the checkboxes of the beta functionality that you want to enable.
Available beta features
Intel creation in the graph
This feature enables you to create entities and entity relationships directly in a graph. This is a major workflow improvement. Previously, users had to navigate to another page in the Intelligence Center to create entities and relationships, and then they had to import them into the graph as a separate step.
Risks
Risk description

Risk type

Risk likelihood

Users may inadvertently alter data through lack of familiarity with the new beta feature.

Feature toggle risk

Low

In case of issues during data migration, older data might become inaccessible.

Specifically, older graphs or visuals might not render properly after migration.

In addition, entities created with the new beta feature may not work properly if the beta feature toggle is switched off after creating the entities.

Intel creation risk

Low

Data integrity may be lost between versions.

Specifically, users may save or open an existing graph with a beta feature enabled, but then the same graph may stop working if the beta feature is disabled.

Mitigation risk

Low
Known Limitations
If you create a draft entity in a graph, the draft is not saved to Intelligence > All intelligence > Draft, which is where drafts are normally kept.

Removing a draft from a graph is permanent. You cannot retrieve a draft entity created while in a graph.

Entities lacking required fields can be published using the publish ( ) button in a graph's top navigation bar, but not using the entity's own Publish button (available when you double-click the entity to display its detail pane).

To publish an entity using the latter method, you need to assign values to all of its required fields. Publishing entities without required fields has no impact on outgoing feeds.

In a graph, if you create a relationship with a published entity that has a draft and then, after the relationship was created, you publish the graph using the publish ( ) button in the top navigation bar, the relationship is removed from the graph and deleted from the Intelligence Center.

In a graph, you can edit an entity that has a draft by selecting the Edit option from its right-click context menu. However, you cannot save your changes.

In a graph, you can double-click an entity that has a draft to open its detail pane, but you cannot edit the entity's details.

When you edit the type of a relationship, some of the options displayed in the drop-down menu may not apply to the entities concerned.
Modern text editor
Select the (Beta) Modern text editor checkbox to enable the new text editor for Reports. It replaces the text editor used when writing the Summary and Analysis sections of a Report entity.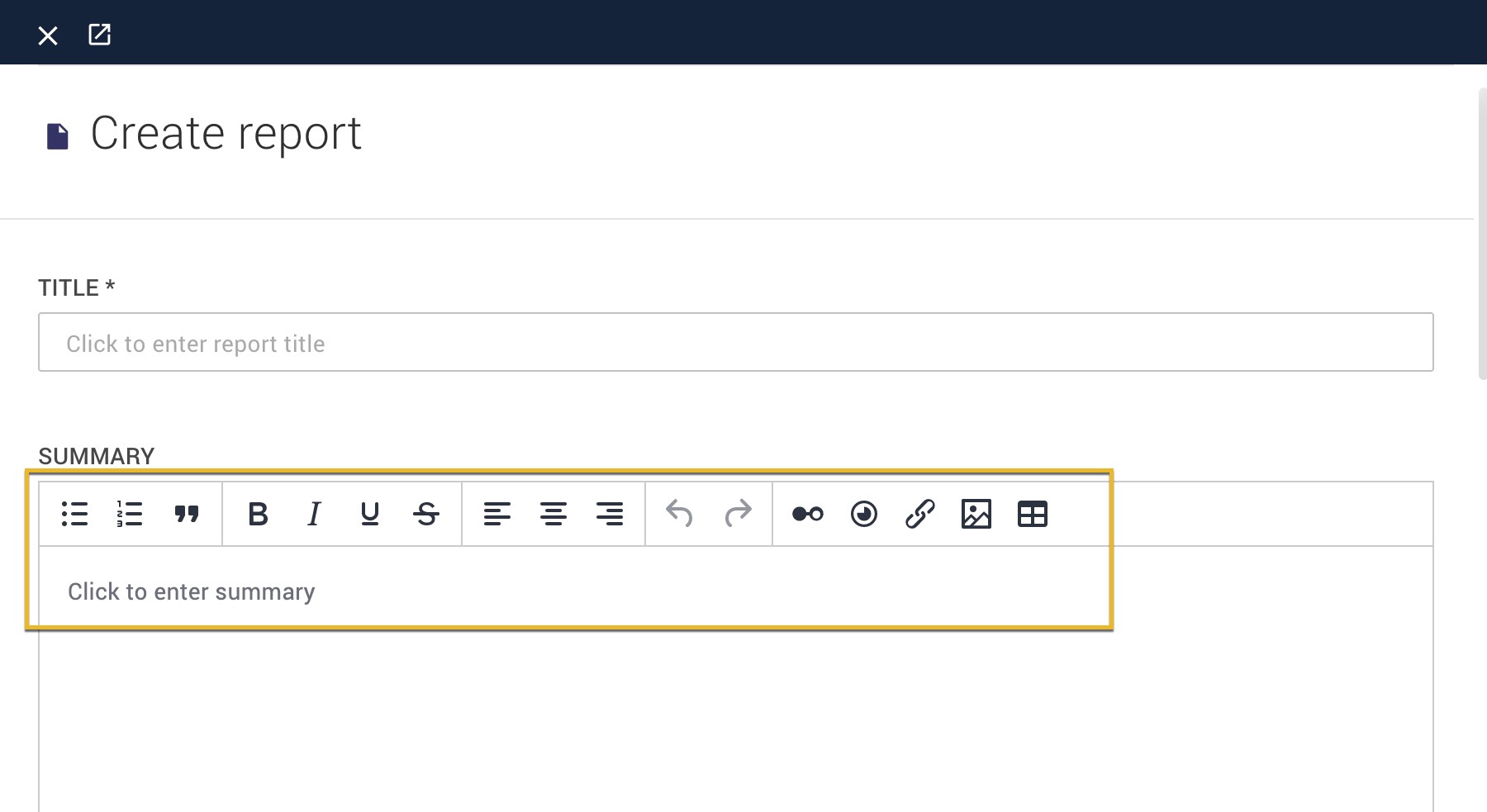 The new text editor allows you to add simple tables to your reports:

When (Beta) Modern text editor is disabled, previously createad tables in Report entities remain.
Summary and Analysis sections in Report entities will only display tables when you select View full content.
Known limitations
Table headings or stub columns are not supported.

Tables cannot be sorted.

Bug: When linking to an existing object (entity or observable), if the target object's title contains a non-ASCII character, the link cannot be created and the UI crashes.
Knowledge packs creation
Enabling (Beta) Knowledge packs creation allows your Intelligence Center instance to act as a knowledge pack producer.
For more information, see Knowledge packs.
Disclaimer
Beta features are provided on an "as is" and an "as available" basis.
EclecticIQ disclaims any and all warranties, whether express or implied, as to the suitability or usability of this beta feature.
EclecticIQ will not be liable for any loss, whether such loss is direct, indirect, special or consequential, suffered by any party as a result of their use of this feature.
Should you encounter any bugs, glitches, lack of functionality, or other problems using this beta version, please let us know immediately.
You are advised to safeguard important data, to use caution, and not to rely in any way on the correct functioning or performance of this feature and/or accompanying materials.
There exists a possibility of data corruption and/or data loss.
You assume any and all risks and all costs associated with the use of this beta feature.